Vocal Indulgement 4
August 19, 2011 06:33 AM PDT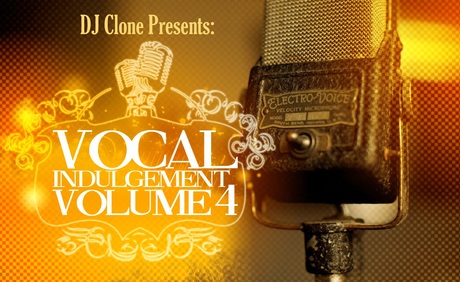 Dj Clone Presents to You Yet another episode of Vocal Indulgement:
Vocal Indulgement Vol: 4
Inspired by the first ever all vocal mix done by Dj Clone in 2008, Vocal Battle. Vocal Indulgement 4 is on that soulful tip that just makes you wana voice out your soul to the world. Guaranteed to make your soul cry.
Indulge in This:
Water Psalm Intro – Aquanote
1. Waiting – Aquanote
2. 4 Real (Main Mix) – Amel Leirruex
3. Nowhere – Clara Hill Meets Atjazz
4. In Every Way (feat Omega) – Aybee
5. Secrets & Lies (Guy Robin Remix) – Jellybean Feat. Carla Prather
6. Swimming – Nick Holder feat. Zaki
7. Set Me Free (Native Roots Mix) – Funk Daddy feat. Sue
8. Believe (Aural Mix) – Sterling Ensemble feat. Juliet Maisha
9. Believing (Qness Remix) – UPZ Feat. Kafele
10. I (Sean McCabe Remix) – Donae'o
11. Umhlaba – Art Jones Feat. Shana
Best Of Soulful Vocal House Music. (Timeless)